Tricept
To maximise thermal performance new Tricept is engineered from 70mm wide profile (the industry maximum).
Thermal Enhancement
Innovative PVC-u Thermal Reinforcing ensures optimum energy efficiency by creating vertical chambers throughout the frame. The chambers help to resist outside temperatures and retain internal warmth.
The result is far greater heat retention than achieved by conventional hollow metal reinforcing.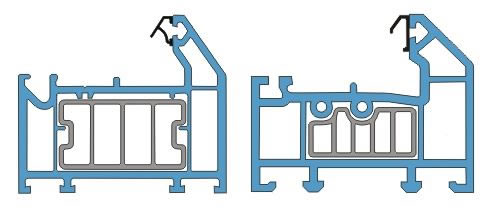 Top Grade PVC-u
European Committee standards state that Grade A PVC-u must have an outside wall thickness of 2.8mm. Tricept wall thickness is 3mm which offers superb frame strength and rigidity that will last for years.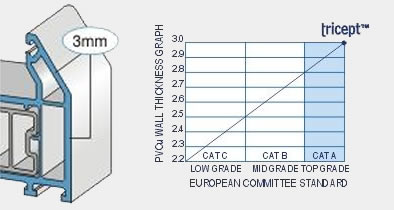 Weather Resistance
You should expect your new windows and doors to be completely draught proof and water tight. Tricept profile is produced with all weather compression gaskets, fused to both the inner and outer frame sections. The gaskets offer far greater compression and remain inline with the profile for a neater appearance. Because they are fused to the profile they can never shrink back thus avoiding any leaks or irritating draughts in your home.
Integral Drainage
To enhance the weather resistance further Tricept has a sophisticated 'built in' drainage system that directs any water penetration away and towards the external drainage route.
Neat Installations
To ensure your windows are fitted neat and square, and to prevent 'bowing' upon installation, two legs have been formed to the brick facing edge of the profile.
Correct Glazing
In order to avoid the breakdown of glazed units it is essential that your unit remains in dry conditions at all times. Tricept have designed a unique glazing packer that is sprung in place for the glazed unit to sit on and therefore create a bridge between the sealed unit and any water or dampness. This prevents condensation forming inside your units.
Versatility
Whilst all the profiles remain technically the same, Tricept offer you a choice of either a fully bevelled system or fully ovolo depending on your preference.
Clean Lines
Both Systems have been designed to be symmetrically correct in that all flat surfaces are similar in width which in essence offers a far slimmer and more aesthetically pleasing appearance to your window.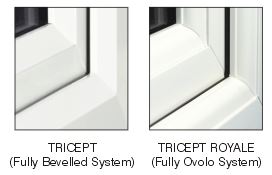 Tricept Multi-Point Locking System
Every Tricept window and door is fitted with a unique Multi-Point Locking System that has been designed exclusively to fit the Tricept range.
Because of this you can rest assured knowing that every opening is firmly secured on all four sides.
Smart Safety Solutions
For your safety, easy clean / Fire Escape hinges are fitted as standard to all side-opening windows. These can be pushed to a full 90 degree opening and give you an alternative means of escape in the unfortunate event of fire.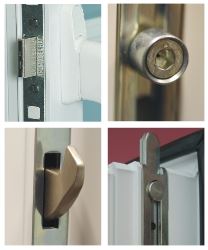 Code of Practice
Tricept approved installers work to an agreed Code of Practice. This ensures the highest levels of installation, service and customer care.The areas outlined in our installation Code of Best Practice include: